Skip to content
For an optimal viewing experience, it is recommended to view this website on the latest versions of IE, Firefox, Chrome or Safari.
Hip Hing is dedicated to protecting the health and safety of its employees and workers at all times. We aim to achieve this by integrating occupational health and safety risk management into our planning, design and construction processes.
Hip Hing's comprehensive Occupational Safety and Health Management System and policy comply with ISO 45001 and the Code of Practice of Factories & Industrial Undertakings (Safety Management Systems) Regulation. Yet, our efforts go beyond just complying with statutory obligations, they are made from the heart as an integral part of our holistic commitment to staff care.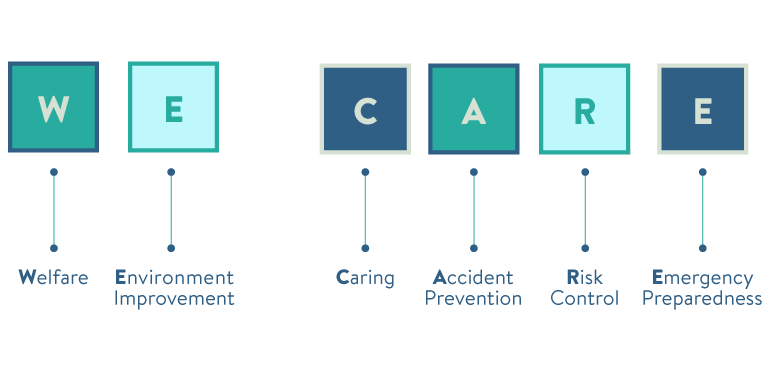 Comprehensive Promotion for Health and Safety
Hip Hing places the safety and wellbeing of its staff and workers at the forefront of its efforts. Compulsory attendance is required at tailor-made courses designed to eliminate safety risks and improve safety performance at our sites. A number of health and wellness initiatives have also been rolled out to encourage healthy living, including "Mobile Audiometric Screening", "Automated External Defibrillation (AED) Course" and "Pneumoconiosis Prevention Talk". To demonstrate our care for the workers, our management plays an active role in the caring programmes to build closer relationships with them.
Offer of Mobile Audiometric Screening

Masks distribution to fight the pandemic

Giving out gifts for workers during festival
Listening Yields Success
Safety and health policies and accident prevention measures are made more effective by taking account of the feedback from site-based staff and frontline workers. Hip Hing always adopts a collaborative and inclusive approach by listening to the needs and concerns of our people.

Hip Hing's top management regularly joins morning exercise sessions and lunchbox gatherings at our sites. This gives staff and workers at all levels an opportunity to exchange opinions on site safety and health with our top decision makers. This interactive communication process not only helps to optimise the existing safety measures but also helps emphasise the importance of safety awareness amongst our people.

Lunchbox gathering at site leisure corner

Interactive dialogue between top management and frontline workers

Morning exercise session led by site management