Skip to content
For an optimal viewing experience, it is recommended to view this website on the latest versions of IE, Firefox, Chrome or Safari.
Hip Hing is dedicated to protecting the health and safety of its employees and workers at all times. We aim to achieve this by integrating occupational health and safety risk management into our planning, design and construction processes.
Hip Hing's comprehensive Occupational Safety and Health Management System complies with OHSAS 18001 and the Code of Practice of Factories & Industrial Undertakings (Safety Management Systems) Regulation. Yet, our efforts go beyond just complying with statutory obligations, they are made from the heart as an integral part of our holistic commitment to staff care.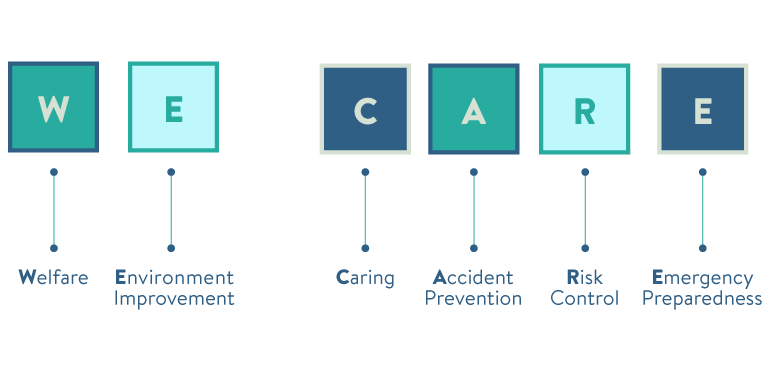 "Safety Begins with Me" Campaign
Hip Hing's Safety Forum with the theme "Safety begins with me" was held at the Kowloon Bay International Trade & Exhibition Centre in June 2015. Around 700 senior management and frontline staff members attended, shared their experiences and reaffirmed their commitment to site safety. One of the ultimate goals of this event was to ensure all frontline staff are committed to acting as safety inspectors, are sensitive to safety risks and strive to improve safety performance.

The establishment of a safety culture also relies on the commitment of our subcontractors and their workers. To secure this commitment an annual subcontractor's forum has been established, to enable Hip Hing to share the latest industrial safety information and best safety practices. This helps to reinforce the cooperative working relationships we have with our subcontractors.

Mr Chu Tat-chi, Managing Director, urges everyone to take an extra step for safety

700 attends pledge to put safety first

Annual Subcontractors' Forum
Listening Yields Success
Safety and health policies and accident prevention measures are made more effective by taking account of the feedback from site-based staff and frontline workers. Hip Hing always adopts a collaborative and inclusive approach by listening to the needs and concerns of our people.

Hip Hing's top management regularly joins morning exercise sessions and lunchbox gatherings at our sites. This gives staff and workers at all levels an opportunity to exchange opinions on site safety and health with our top decision makers. This interactive communication process not only helps to optimise the existing safety measures but also helps emphasise the importance of safety awareness amongst our people.

Lunchbox gathering at site leisure corner

Interactive dialogue between top management and frontline workers

Morning exercise session led by site management